Жилищное строительство
The Republic of Karelia is one of the leaders in terms of housing construction growth rates.
The Republic of Karelia is a developing region, attractive for work and life.
The commissioning of residential buildings in 2020 amounted to 294.2 thousand m2.
Dynamics of residential premises commissioning in the Republic of Karelia (thousand m2.):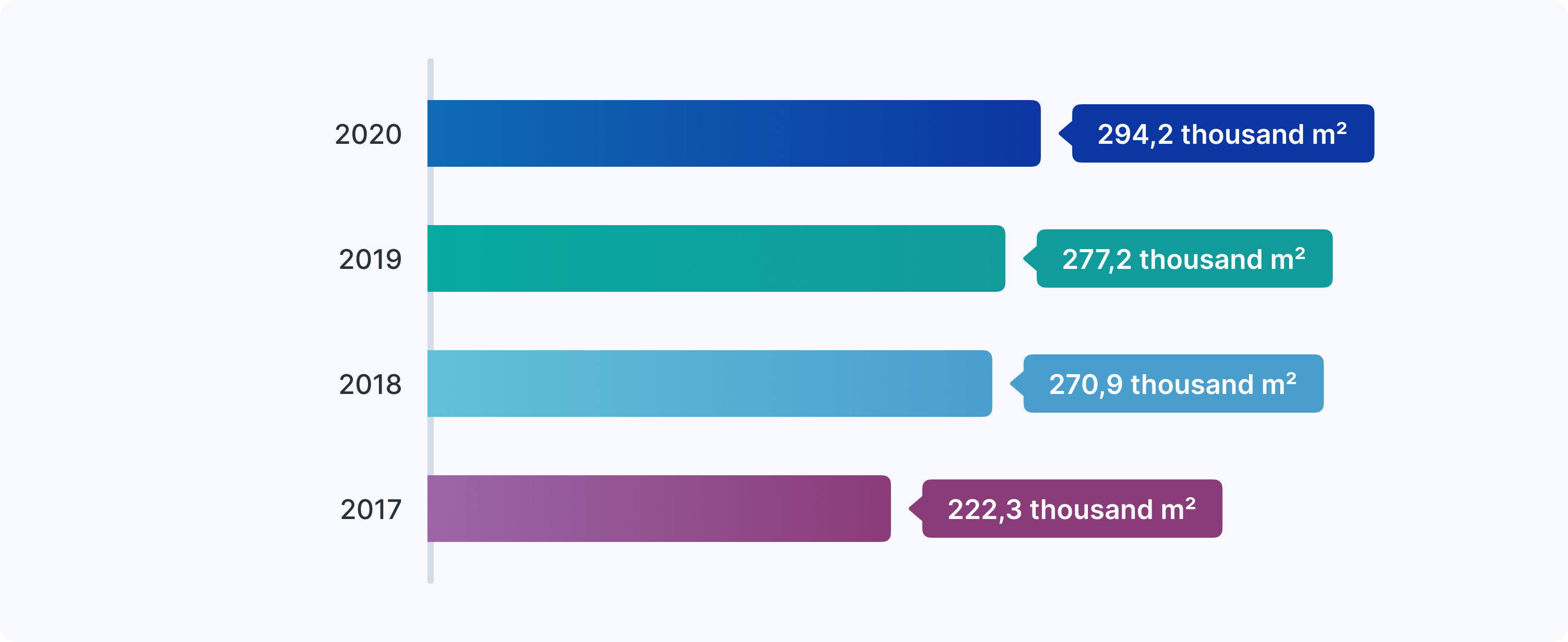 Commissioning of housing in the context of municipal districts in 2020 (thousand m2.):
Urban districts

Municipal areas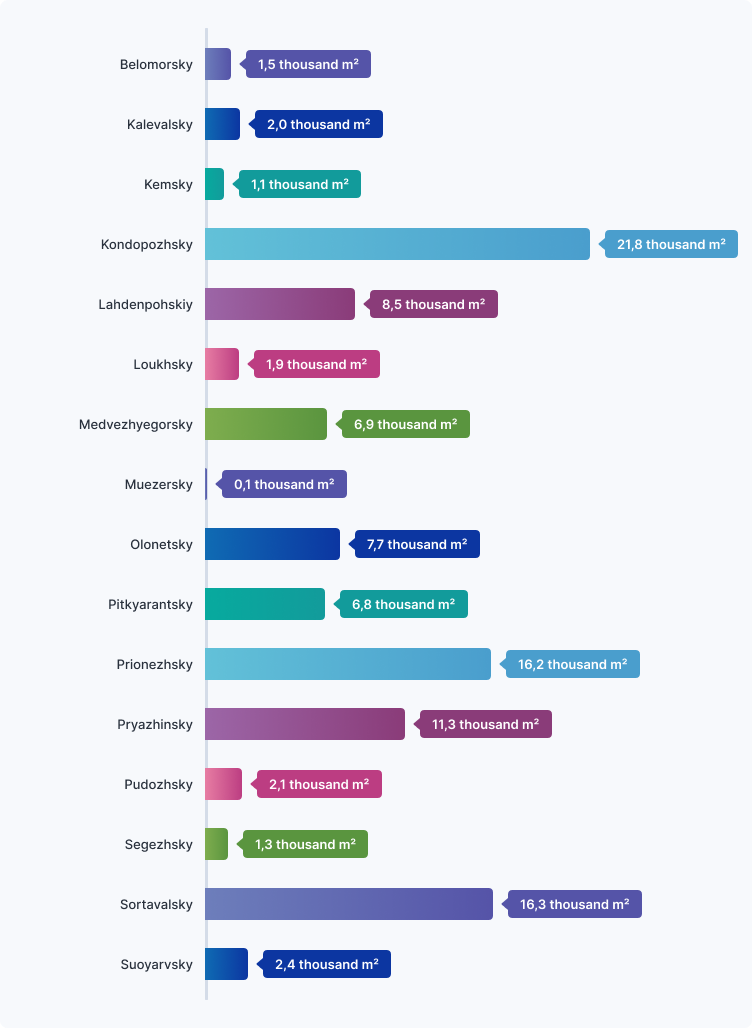 Education
The Republic of Karelia is a large educational center in the North-West of Russia.
Secondary vocational education
17 educational organizations, implementing secondary vocational education


Key areas of education:
Road industry
Power engineering
Heat power engineering
Mechanical engineering
Materials technology
Mining complex
Health care
Timber industry complex
Services sector
Higher education
4 higher educational institutions, including 2 branches

About 11 thousand students


Petrozavodsk State University:
14 educational institutions
65 departments
13 basic departments at enterprises and organizations
40 scientific, educational and innovation centers
17 joint laboratories and departments with KarRC RAS ​​and enterprises of the Republic of Karelia
31 small innovative enterprises with the participation of the university
3 technoparks at the enterprises of the Republic of Karelia
117 patents obtained as a result of scientific research
Examples of successful developments
CARDIACARE
Automated remote diagnostics system. The service allows real-time ECG analysis, detecting various types of cardiac arrhythmias.
PROGNOSIS
A software and methodological complex designed for numerical calculations of the characteristics of labor resources in the constituent entities of the Russian Federation.
AQUAVITA
Automated fry complex-regulation of oxygen and temperature in cages. Creates conditions for year-round fish farming.
Сulture
Karelia is a unique cultural region, the formation of which was influenced by the border position.
Traditional crafts of Karelia
Weaving from straw and birch bark
Pearl sewing and embroidery
Spinning
Weaving
Wood and bone carving
Making ceramics
The center of culture and professional art of Karelia is the city of Petrozavodsk, where the largest cultural institutions are concentrated.
5 theaters
The Musical Theater of the Republic of Karelia, the National Theater of the Republic of Karelia, the Puppet Theater of the Republic of Karelia and the Drama Theater of the Republic of Karelia («Creative Workshop») enjoy deserved attention of residents and guests of the capital.
23 museums
Among the museums, it is worth noting the oldest in the republic National Museum of the Republic of Karelia (the Karelian State Museum of Local Lore was opened in 1873), the Museum of Fine Arts of the Republic of Karelia.
Sport
More than 70 sports are
cultivated in Karelia
About 400
international, all-Russian, republican physical culture and sports events
5 specialized
children's and youth sports schools of the Olympic reserve
24 children and youth
sports schools