The Republic of Karelia is one of the largest industrial centers in the North-West of Russia.
During the period from 2016 to 2019, the gross regional product increased by 25.3%. According to the forecast, the gross regional product in 2020 will amount to 340 billion rubles. The basis of the republic's economy is industry, which accounts for almost 40% of the total volume of the gross regional product.
The industry of the Republic of Karelia is traditionally associated with several main industries:
mining
pulp and paper production
logging industry
food and chemical industry
metalworking
The sectoral composition of the industry is primarily due to the geographical features of the region: a large number of rivers, lakes, forests and certain types of minerals.
The most significant enterprises of Karelia
Mining

Sunsky quarry LLC
production of nonmetallic building materials (crushed stone)
Prionezhskaya Gornaya Kompaniya LLC
production of nonmetallic building materials (crushed stone)
Karelkamen SC
production, transportation and sale of nonmetallic building materials
Karelprirodresurs LLC
production of nonmetallic building materials (crushed stone)
Pulp and paper production

Segezha PPM JSC
production of paper, cardboard, cellulose, tall oil, raw turpentine, rosin
Kondopoga PPM JSC
paper production (newsprint, wrapping)
RK-Grand LLC
cellulose production
Wood processing and wood products manufacturing, logging

DOK Kalevala LLC
production of oriented strand boards
Karelia DSP JSC
production of chipboards
LHK Karellesprom PJSC
production of untreated wood
Mechanical engineering

Petrozavodskmash Foundry LLC (Transmashholding LLC)
production of diesel engine components, individual and serial shaped castings
Amkodor-Onego LLC
production of logging equipment
AEM — technologies JSC (Rosatom SC)
production of pipeline fittings, large-sized metal structures and capacitive products; production and supply of equipment for the nuclear industry and oil and gas industry
Engineering Center for Fire Robotics EFER LLC
development and production of fire monitors, hand barrels, fire robots and robotic fire complexes
Metallurgy

Karelsky Okatysh JSC (Severstal PJSC)
mining and processing of iron ore production of iron ore pellets
Vyartsilskiy Hardware Plant CJSC (Mechel PJSC)
production of hardware products: steel wire, wire nails, steel mesh with polymer coating
Shipbuilding

Onega shipbuilding and ship repair plant JSC (Rosmorport FSUE)
construction and repair of ships
By the Order of the Head of the Republic of Kazakhstan dated 02.04.2020 No. 199-r , a list of backbone organizations of regional importance and having a significant impact on the employment of the population and social stability in the Republic of Karelia, which includes 78 enterprises, was approved.
Gross regional product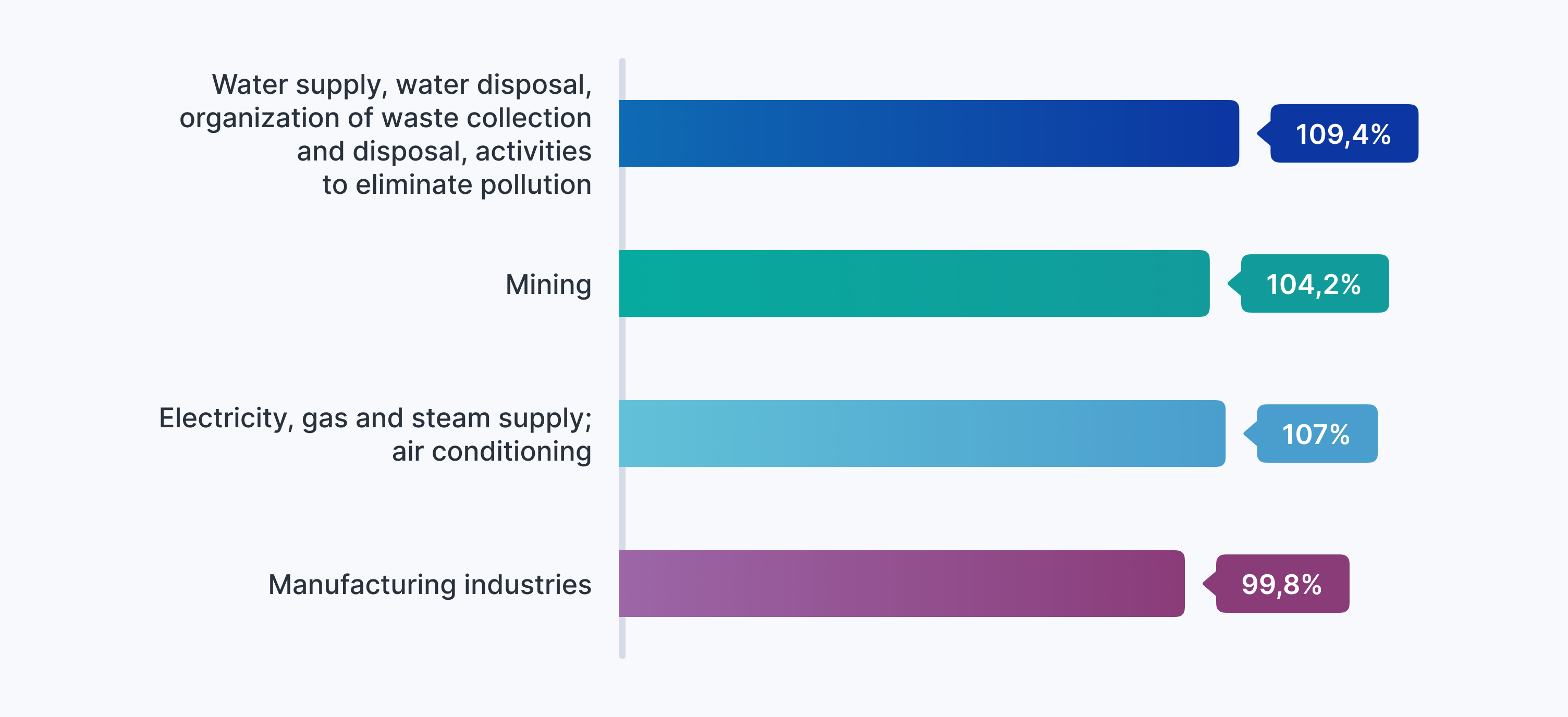 The industrial production index in 2020 amounted to 102.2%, including: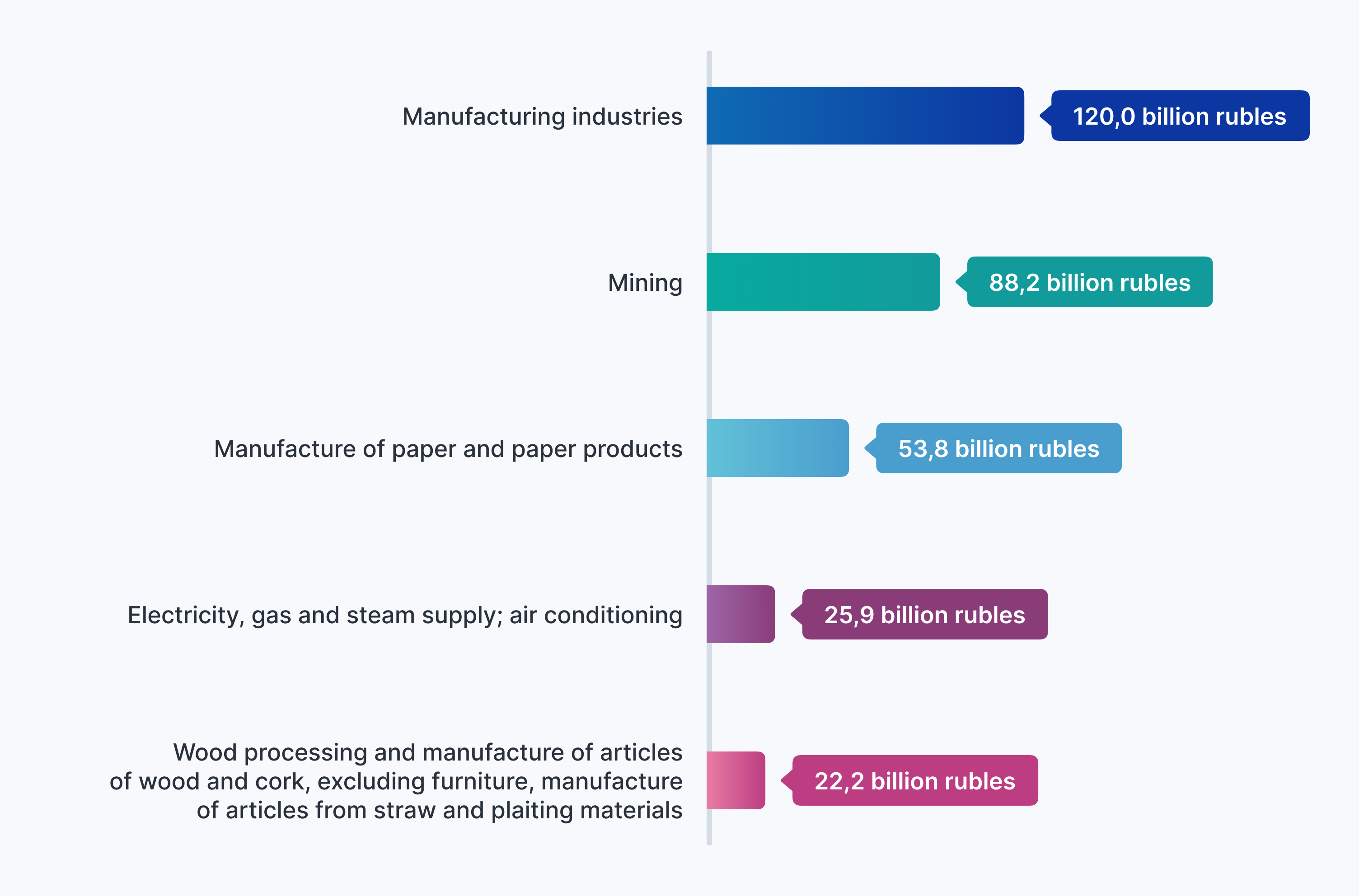 The volume of shipped goods of own production, works and services performed (2020), including: