Territory
The Republic of Karelia is located in the northwest of Russia and is part of the Northwest Federal District of the Russian Federation.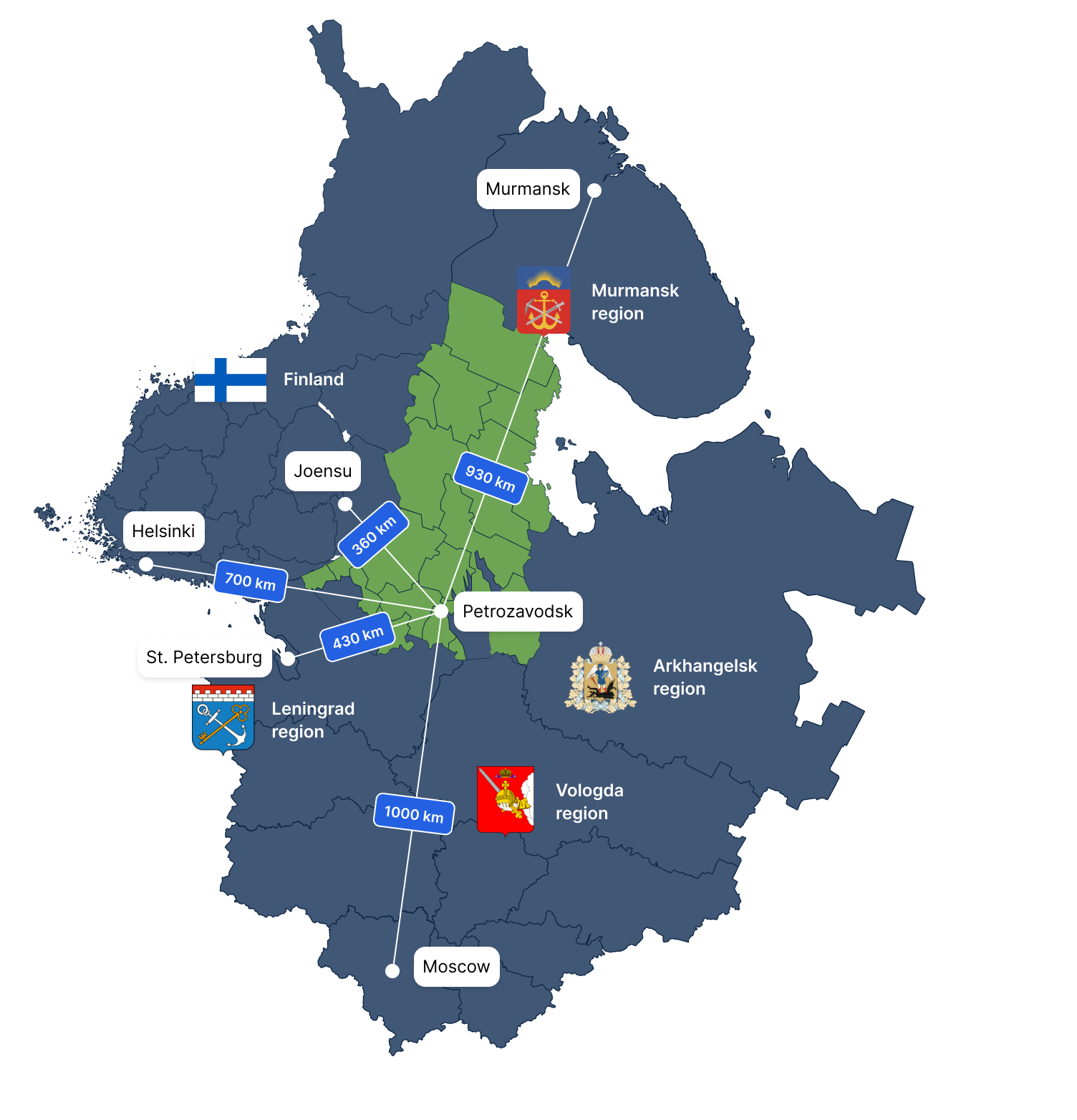 798 km
the length of the state border of Russia and Finland
609,1 thousand people
Population
180,5 thousand km²
total area
More than half of the territory of Karelia is covered with forest. The main species are spruce and pine.
Mineral resource base
More than 525
of explored deposits
35 kinds
of minerals, with reserves recorded by the state balance
1st place in Russia
by volume of chrome ore reserves (50% of the total)
Minerals:
Iron ore
Shungite
Titanium
Vanadium
Molybdenum
Noble metals
Diamonds
Building materials (granites, diabases, marbles)
Ceramic raw materials (pegmatites, spar)
Apatite-carbonate ores
Alkaline amphibolasbestos
Bioresources
A large number of lingonberries, cranberries, blueberries, cloudberries and other berries are collected in Karelia every year.
70 thousand tons
annual biological stocks of edible mushrooms
More than 150 types
medicinal plants with operational reserves of more than 6 thousand tons
160.9 thousand tons
annual biological stocks of wild berries
Karelia has significant aquatic biological resources. Commercial fishing is carried out in the White Sea and large lakes.
Main species: salmon, salmon, trout, navaga, herring, cod, flounder; the biological resources of the White Sea - mussels are actively being developed.
The Republic of Karelia is one of the most favorable constituent entities of the Russian Federation for the industrial cultivation of commercial trout.
Transport infrastructure
8 checkpoints on the border with Finland
Among them there are 5 automobiles:
Vyartsilya border crossing point,
Lutta international automobile checkpoint,
MAPP Suoperya,
DAPP Inari,
DAPP Syväoro.
2 railway:
1 airplane— Petrozavodsk.
5 ports
connected by a system of canals with the main water routes of the European part of Russia
4 federal highways
R-21 «Cola»
A-119 «Vologda— Medvezhyegorsk»
A-121 «Sortavala»
A-137 R-21 «Kola»— Kostomuksha— state border
1 port
open for entry of ships under the flags of foreign states (port of Petrozavodsk)
The White Sea-Baltic Canal, which connects the White Sea with Lake Onega and has access to the Baltic Sea and the Volga-Baltic waterway.
Fuel and energy complex
7700-900 KW⁄KM
average specific capacity of small rivers and watercourses in Karelia
6.4 MW
installed capacity of operating small HPPs in Karelia
0.06-8.96 KW⁄KM²
the average energy density of small rivers and watercourses in Karelia
Economy
The economy of the Republic of Karelia is based on the processing of local types of natural resources, the use of tourist and recreational potential and a favorable economic and geographical border position. These factors determine the specialization and regional characteristics of the economy.
The share of Karelian companies in the all-Russian production: